Management and Reporting
By combining our software applications with our station network management system, we make it possible for EA charging station owners to control their stations wherever they have an internet connection.

Commercial and Multiple Use
In cases where there are multiple users, it provides a fair charge management by ensuring that users are billed as much as their usage amount.

Remote Access
Charging station software updates can be made with remote access.

Compatible With All Models
It is compatible with all electric and plug-in hybrid vehicles that comply with the EN61851 standard accepted by the European Union.
SINGLE SOCKET
DOUBLE SOCKET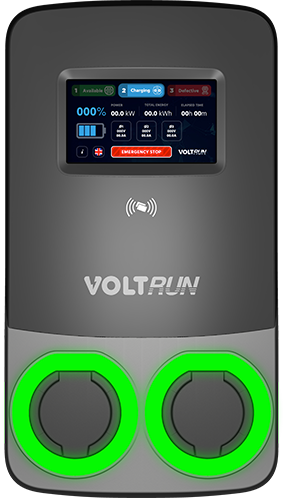 Internet Connection
All reporting, payment management and station management operations can be done easily over the internet portal.

Payment Management
Payments are made automatically through the credit cards of the drivers in their Voltrun accounts. The accumulated charging service fees are transferred to the location owners' account.

Fast Charging
It can charge up to 8 times faster than a wall socket and provides enough power to travel 100+ km in one hour of charging.

Type 2 Socket
Voltrun Commercial charging stations have Type 2 sockets.