Operator Software Package - ezOperator
Your Charging Network Operator System is Ready!
ezOperator is a layered software package developed by Zebra Elektronik to provide electric vehicle charging station network operator services. Our Voltrun charging station network is managed using the ezOperator software package.
ezOperator is offered as a software as a service (SaaS) model to companies that want to become a Charge Station Operator and/or a Mobility Service Provider. It can be private labeled in accordance with corporate branding strategies of the operators.
With its modular structure and flexible usage features, it enables operators to manage its network of chargers and customers centrally under a single end-to-end platform.
ezOperator system also provides a platform for roaming with other operators with its ezHUB layer.
For detailed information about ezOperator, please contact us.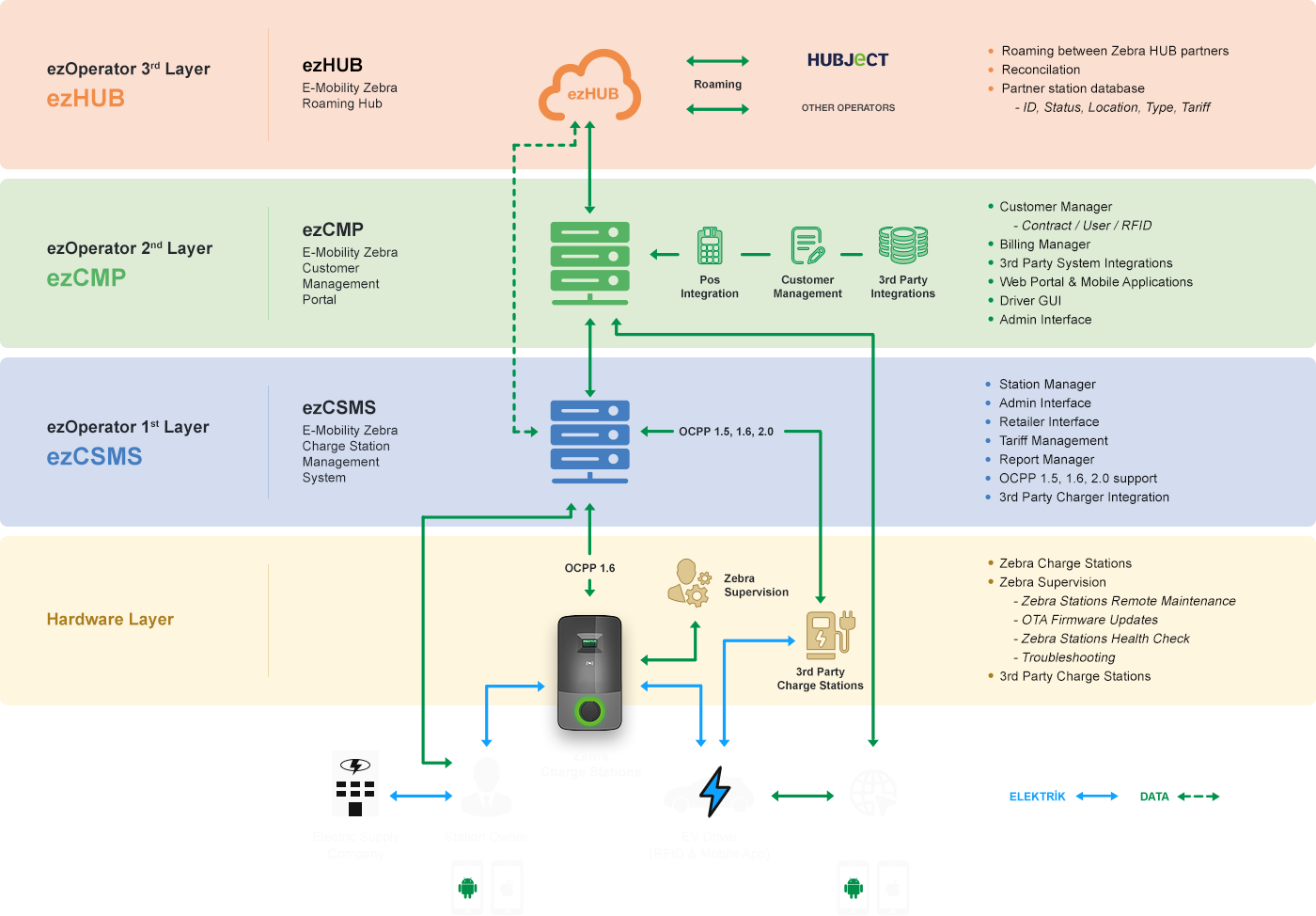 ezCSMS
Charging Station Management System
ezCSMS is the first layer of ezOperator Software Package and is the central management system of charging stations installed on a network. Instant communication and integration with charging stations is provided via the Open Charge Point Protocol (OCPP) support in this layer.
The health status of stations, tariff management, consumption and usage reports can be monitored instantly. System users and authorizations can be defined according to a multi-level hierarchical structure. Users can access the data within their authority via the administrator or standard user interfaces.
ezCMP
Customer Management Portal
CMP is the second layer of ezOperator Software Package and is a web-based portal that allows the operator to manage their customers. Customers can join the system through the operator's portal.
All functions that the operator needs such as contracts, users, dealers, locations, payment management, virtual pos integration, invoicing, integration of 3rd party solutions are provided in this layer with user-friendly interfaces.
ezHUB
Roaming Service
This is the third layer of the ezOperator Software Package and is the system that provides Zebra's roaming service between operator partners. Zebra partners can benefit from each other's station networks within the framework of their bilateral agreements. It is also possible to roam with the systems of operators other than operators that use ezOperator. The system also provides ease of reconciliation and customer consolidation.
Customer Mobile Application
It is a mobile application developed as a sub-product of the ezOperator software package and contains the features required for electric vehicle drivers to perform their charging operations. It is developed for iOS and Android and can be customized according to the needs of the operator companies.
By signing up to a system in the mobile application, customers can manage their charging operations and find the closest stations on the map with a user-friendly interface, plan their travels, receive charging reports, find access charges, bills and account management.